Celebrate National Farm to School Month with REAP Food Group, Madison public schools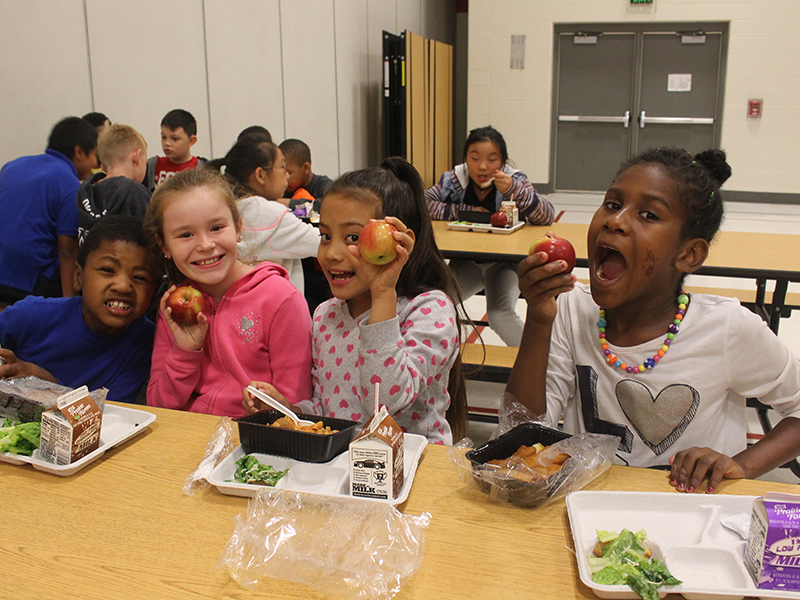 MADISON, WI – For National Farm to School Month this October, non-profit REAP Food Group is proud to celebrate fresh, sustainable and local food with the Madison Metropolitan School District (MMSD). Farm to School empowers children and their families to make informed food choices while strengthening the local economy and contributing to vibrant communities. Throughout the month, a variety of activities and events involving local, fresh food will be held for Madison students, families and the community.
These activities will celebrate the Farm to School Project, a 5-year partnership between REAP Food Group and the MMSD Food and Nutrition Services, which aims to increase the amount of locally-grown, fresh foods in district snacks and lunches, and to teach nutrition and agriculture lessons to students and staff. Last year, MMSD served over 113,000 pounds of locally and sustainably grown fruits and vegetables in school meals.
"Our goal is nothing less than a generation of Madison students who cheer for frost-sweetened spinach and know farmers on a first name basis," says REAP Executive Director Helen Sarakinos. "Farm to School sets children up for a lifelong enjoyment of fresh fruit and vegetables."
Highlights of the Project include:
The Farm to School Snack Program, which serves a weekly, locally-grown fruit or veggie snack to more than 300 classrooms at 12 MMSD elementary schools. This program is made possible by the Fresh Fruit and Vegetable Program grant provided by the U.S. Department of Agriculture.
Farm to School Garden Bars, now installed in 42 elementary and middle schools. Garden Bars have resulted in children eating more fresh fruits and vegetables, and in less food getting thrown out.
Four AmeriCorps Nutrition Educators, who provide lessons for children on nutrition and agriculture, bring local farmers into classrooms to lead lessons on sustainable agriculture, and welcome Madison-area chefs to teach hands-on cooking lessons to middle and high school students.
Uproot by REAP Farm to School food truck, serving healthy, locally-sourced, grab-and-go lunches to students at La Follette, Memorial, East and West high schools four days per week.
Farm to School Month is a great opportunity for Madison students to try new foods grown by local family farms, learn about where their food comes from, and to connect with each other on sustainable, fresh and accessible produce. Most Farm to School Month events are open to the press.
Wednesday, Oct. 3 – Farm to School Night Out
Farm to School Night Out is an all-day event that encourages the community to dine in or carry out at local restaurants. Twenty-six participating restaurants will donate 10% of their sales from Oct. 3 to REAP's Farm to School Project. For participating restaurants, visit reapfoodgroup.org/events/nightout.
Thursday, Oct. 11 – Great Lakes Apple Crunch
All K-12 schools within MMSD participate in the Great Lakes Apple Crunch again this October. Celebrate this event by crunching into apples that are sourced locally and regionally. REAP's AmeriCorp Nutrition Educators will get out to Madison schools to get students excited about local foods and apple season, and will provide local apples as well. For more information, visit http://www.cias.wisc.edu/applecrunch/.
9th Grade Food Access Panel Discussion with 9th grade Pathways students
Tuesday, Oct. 16:  La Follette High School
Tuesday, Oct. 23: East High School
Community members, including AmeriCorps Nutrition Educators and Education Coordinator Haley Traun, will connect directly with Madison high school students in the Pathways Program, allowing students to explore specific interests to broaden their education and prepare for college and a career. They will discuss food and wellness, equitable food access, food production and food distribution systems. Students will use this discussion as a starting point for independent study projects as a part of the Pathways Program. For more information, visit https://pathways.madison.k12.wi.us/.