Summer Volunteer Opportunities: Farm Fresh Atlas, Summer Food Program, Bayview Summer Camp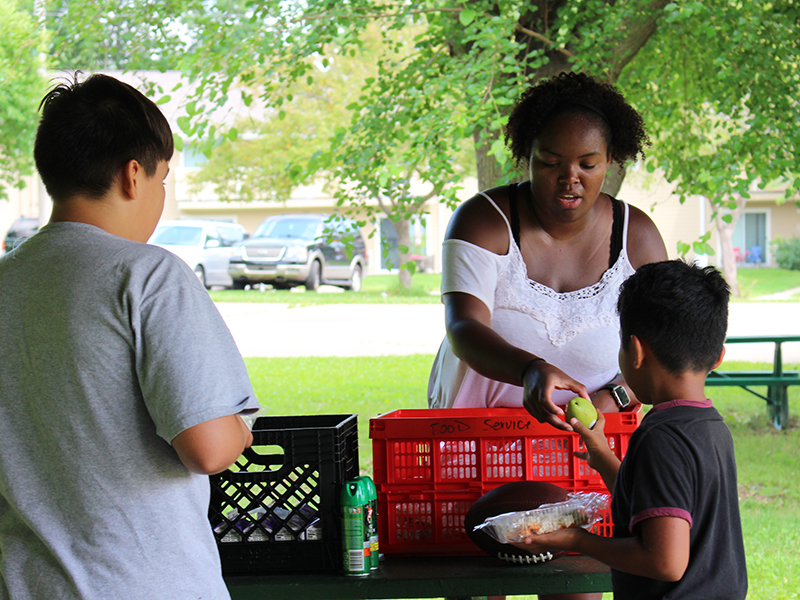 Do you believe in healthy kids, sustainable farms and a strong local food system? We have some wonderful volunteer opportunities to engage in our local food system in a meaningful, hands-on way!
Bayview Community Center Summer Camp
REAP had so much fun cooking with Bayview students throughout the spring, and we are excited to continue our programming with gardening and cooking lessons this summer! Volunteers are needed to assist AmeriCorps with programming at Bayview Foundation, 601 Bay View in Madison. For more information or to sign up, please contact Farm to School Education Coordinator Haley Traun at haleyt-americorps@reapfoodgroup.org or (608) 310-7838.
Monday Gardening: July 22, July 29,  Aug. 5, Aug. 12 (1:45-3:45pm) Two 35-minute groups of ~13 K-3rd graders doing garden and simple harvest and snack activities. The garden is a few small beds, and we would need help managing students during garden tasks and activities, as well as assistance watering and weeding during gardening classes.
Tuesday Cooking: July 9, 16, 23, 30 and Aug. 6, 13 (12:30-3pm) Three (K-1, 2-3, 4-5 grades) groups of ~13 students doing 45 minute rotations. Students will prepare healthy snacks such as kale and collard green chips, rice and ginger sauteed vegetables, and and papaya and cabbage salad, and we will all eat family style after all rotations have completed their recipe tasks. 

Volunteers

 would help children prepare and cook food, manage kitchen behavior, and eat tasty snacks!
Farm Fresh Atlas Distribution – throughout the summer
We are looking for a few helping hands to visit local farmers markets and pass out our Farm Fresh Atlas of Southern Wisconsin, a catalog of farms, businesses, organizations, restaurants, and farmers' markets that sell food directly to customers. You can also help deliver Atlases to local cafes, community centers and co-ops throughout Southern Wisconsin. Contact Noah at noahb@reapfoodgroup.org for details.
Golf Outing Benefit – Friday, Aug. 16
Spend a beautiful day at The Meadows of Sixmile Creek on Friday, Aug. 16 for a golf outing benefiting REAP Food Group. We are looking for volunteers to set up, take down and/or help during the event. Contact Noah at noahb@reapfoodgroup.org for details.
Summer Food Program – weekdays through Aug. 16
We are looking for a few volunteers to help us transport, set up, distribute, and clean up at our summer lunch sites at Leopold and Southdale Parks. The program runs Monday through Friday from 11am until 1pm. And, while you're at the park, you can meet our amazing Americorps team and help them lead Farm to School activities with kids! For more information, contact farmtoschool@reapfoodgroup.org.