Farms to Family Status Update and Matching Grants Announcement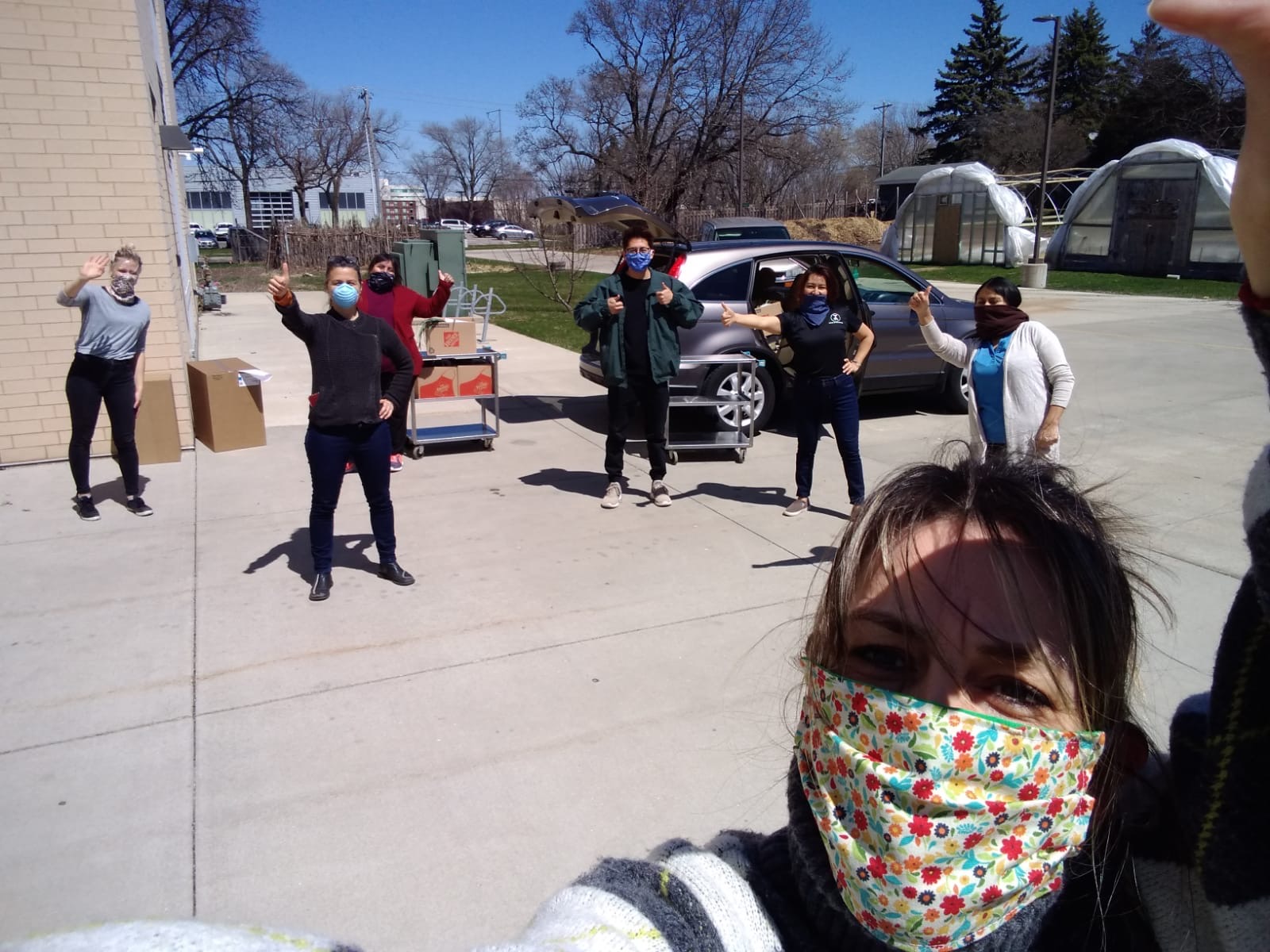 Last month, Roots4Change Co-op with REAP Food Group launched the Farms to Families fund to bring Resilience Boxes of nourishing locally and sustainably-grown foods from WI family farms to Latino/immigrant families impacted by the coronavirus pandemic. Two weeks ago, we launched a fund drive to raise $25,000 to support this unique and important work.
Our communities rose to the occasion! In just over two weeks, you have helped raise $45,000 for this fund! We are humbled by the generosity of neighbors for one another in this community and so grateful we are able to hit the ground running.
Over these last four weeks, we've reached hundreds of adults, children and elderly with fresh greens and nutritious eggs, meat, dairy and grains, even locally sourced handmade tortillas. We've supported more than twenty local farms and farm businesses, many of them minority-owned and operated. We have gotten positive comments from families and producers about the program, and gratitude for the labor put into growing this food. We are also enjoying seeing beautiful photos of the traditional dishes and recipes being prepared with the resilience boxes.
We have had an outpouring of support from growers, food businesses and organizations who donated additional items including: Rooted & Badger Rock Community Center, Madison Sourdough & Neighbor Loaves, RE Golden, Landmark Creamery, Roth Cheese/Crave Brothers, Victor's Farm, David Heide & Liliana's, Agrecol and NessAlla Kombucha!
The reality is that the need for these Resilience Boxes grows every day. Our original goal of 100 families doubled to 200 families after the first week of resilience box deliveries. Despite our collective efforts, we are met with a growing number of families requiring support or/increased quantity of food/box due to their families' composition. The impact of this pandemic will continue to affect our neighbors and struggling farms and producers longer than we hoped. So, we're putting your investment to work, reaching more people for a longer time. The Farms to Families Fund is exemplifying that a truly just food system is one where those who grow our food and those who consume it are intrinsically linked, supporting one another's mutual well-being and health.
We are setting a new stretch goal of $60,000 by the end of May to keep creating resilience boxes into the fall and to grow the number of families who can access them. To get there, we've lined up some great incentives to give!
Two of our beloved food businesses in Dane County are stepping up to the plate to match the generosity of our communities.
During the month of May, The Willy Street Coop will match every gift up to $5000.
Also in May, Sitka Salmon Shares will match every gift for an additional $2,500.
If you help us raise $7,500, they will make an additional gift of $7,500 which gets us to our stretch goal!
Additionally, Willy Street Co-op is also generously matching another $5,000 to the Emergency Farmer Fund set up by Dane County Farmers' Market​ and FairShare CSA Coalition throughout May​! It's great to see this kind of support for our farmers at this time. We are grateful to everyone who has gotten involved with the project.
Every dollar you give will be matched in May, make a gift here: bit.ly/Farms-to-Families.
El mes pasado, la Cooperativa Raíces para el Cambio en colaboración con REAP Food Group lanzaron El Fondo de Granjas a Familias. Este fondo se creó para proveer cajas de resiliencia a familias Latinas viviendo en el Condado de Dane, las cuales han sido afectadas fuertemente durante la pandemia. Las cajas están llenas de alimentos nutritivos y cultivados localmente y de manera sostenible en granjas familiares de Wisconsin.
Hace dos semanas, lanzamos una recaudación de fondos para recaudar $25,000 con el fin de apoyar este trabajo colectivo y socialmente relevante. ¡Nuestras comunidades se levantaron a la altura del desafío! ¡En estas dos semanas, hemos podido recaudar $45,000 para este fondo! Nos sentimos honrados/as por la generosidad de los vecinos/as entre nosotros/as en nuestras comunidades y estamos/as muy agradecidos/as de poder continuar la labor que iniciamos.
Durante este último mes, hemos llegado a cientos de adultos, niños/as y ancianos/as con verduras frescas y huevos, carne, lácteos y granos, incluso tortillas de maíz y harina hechas a mano por miembros de la comunidad Latina. El proyecto ha apoyado a más de veinte granjas y negocios agrícolas locales, muchos de ellos de propiedad y operación minoritaria. Hemos recibido comentarios positivos de familias y productores sobre el programa y ​​agradecimiento por el trabajo de para cultivar/producir estos alimentos. También nos gusta ver hermosas fotos de los platos y recetas tradicionales que se preparan con las cajas de resiliencia.
Además, hemos recibido una gran cantidad de apoyo de productores, empresas y organizaciones que donaron artículos adicionales, entre ellos: Rooted & Badger Rock Community Center, Madison Sourdough & Neighbour Loaves, RE Golden, Landmark Creamery, Roth Cheese / Crave Brothers, Victor's Farm, David Heide Y Liliana's, Agrecol y NessAlla Kombucha!
La realidad es que la necesidad de estas Cajas de Resiliencia crece cada día. Nuestro objetivo original de 100 familias se duplicó a 200 familias después de la primera semana de entregas de las cajas. A pesar de nuestros esfuerzos colectivos, nos encontramos con un número creciente de familias que requieren apoyo o una mayor cantidad de familias necesitando más alimentos / caja debido a la composición de sus familias. El impacto de esta pandemia continuará afectando a nuestros vecinos y granjas y productores en dificultades por más tiempo del que esperábamos. Es por ello que estamos poniendo su inversión a trabajar, llegando a más personas por más tiempo. El Fondo de Granjas a Familias ejemplifica que un sistema alimentario verdaderamente justo es aquél en el cual las personas que cultivan nuestros alimentos y quienes los consumen, están intrínsecamente vinculados, apoyándose mutuamente para velar por el bienestar y la salud comunal.
Estamos estableciendo una nueva meta de $ 60,000 para fines de mayo para seguir proveyendo cajas de resiliencia en el otoño, así como aumentar el número de familias que pueden acceder a ellas. Y para llegar allí, hemos accedido algunos incentivos para incrementar el valor de cada dólar.
Dos de nuestros queridos negocios de alimentos en el Condado de Dane están dando un paso al frente para igualar la generosidad de nuestras comunidades.
Durante el mes de mayo, La Cooperativa Willy Street igualará cada donación hasta alcanzar $5,000. También en mayo, Sitka Salmon Shares igualarán cada regalo financiero hasta $2,500. Así es que si nos ayudan a recaudar $7,500, esto se traduce en una donación adicional de $ 7,500. ¡Esto nos llevará a nuestra meta! ¡Además, Willy Street Co-op también está generosamente asignando otros $ 5,000 al Fondo de Emergencia para Agricultores administrado por Dane County Farmers 'Market y FairShare CSA Coalition! Es genial ver este tipo de apoyo para nuestros agricultores en este momento. Agradecemos a todos los que se han involucrado en el proyecto.
Cada dólar que entregue se igualará en mayo, haga un regalo aquí: bit.ly/Farms-to-Families.