REAP Food Group Launches Vegetable Processing Initiative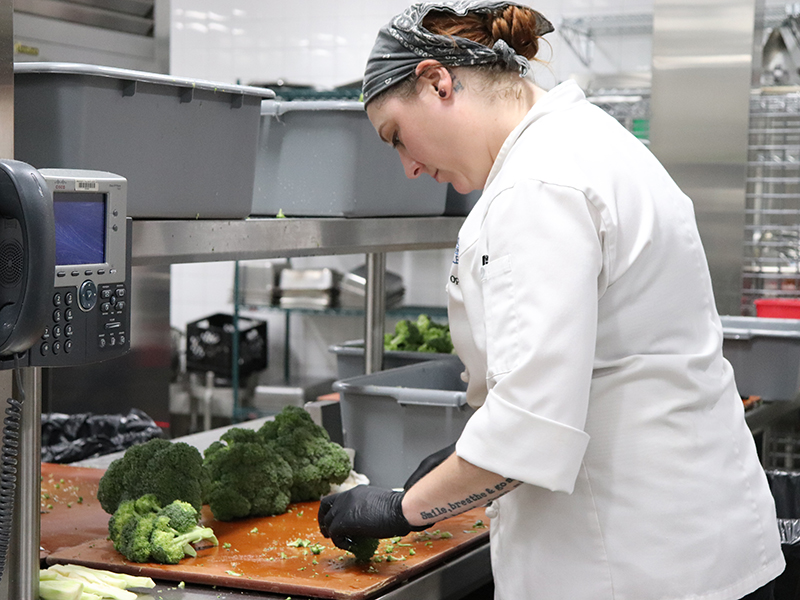 After two years of conversations and planning with local farmers, institutions and stakeholders, REAP's answer to getting more fresh, local produce into institutions that feed and care for all residents is off the ground.
On Monday, July 15, six employees arrived at the Madison College culinary arts kitchen for their first day washing, chopping and bagging local cauliflower and broccoli for REAP's vegetable processing initiative.
The initiative has brought together some of Madison's largest institutions – UW Health, UW Dining and the Madison Metropolitan School District – to increase the amount of local, sustainably-grown produce purchased from Wisconsin farms and served to those who use these institutions.
It addresses one of the biggest barriers local farmers face in supplying produce to large-scale buyers.
"Small farms in Wisconsin lack the capacity to wash, chop and bag fresh, local produce to supply institutional buyers," said Brianna Fiene, REAP's Farm to Business Director.  "Likewise, anchor institutions like hospitals, universities and schools also lack the capacity to process fresh, locally grown produce. They are limited to purchasing pre-processed items from outside of the state while our own Wisconsin farmers struggle to establish local markets."
REAP's pilot project will bridge that gap by sourcing, washing, chopping and bagging fresh, local produce to supply to these institutions in Madison. Partner institutions have committed to purchasing more than $100,000 worth of value-added produce from the project in its first year. REAP is working with grower cooperatives representing more than 75 sustainable family farms in Wisconsin.
"This project will benefit our community in two big ways:  by creating significant markets for Wisconsin family farms and by increasing access to good food for community, including some of our most vulnerable residents – children and the infirm," Fiene said. "Because of the volume of food these institutions order and serve every week, they have so much buying power that they have the ability to move the needle significantly on local purchasing."
The project was made possible in part thanks to donations made to REAP's Big Share 2019 campaign, which raised $10,000 in March to launch the pilot.