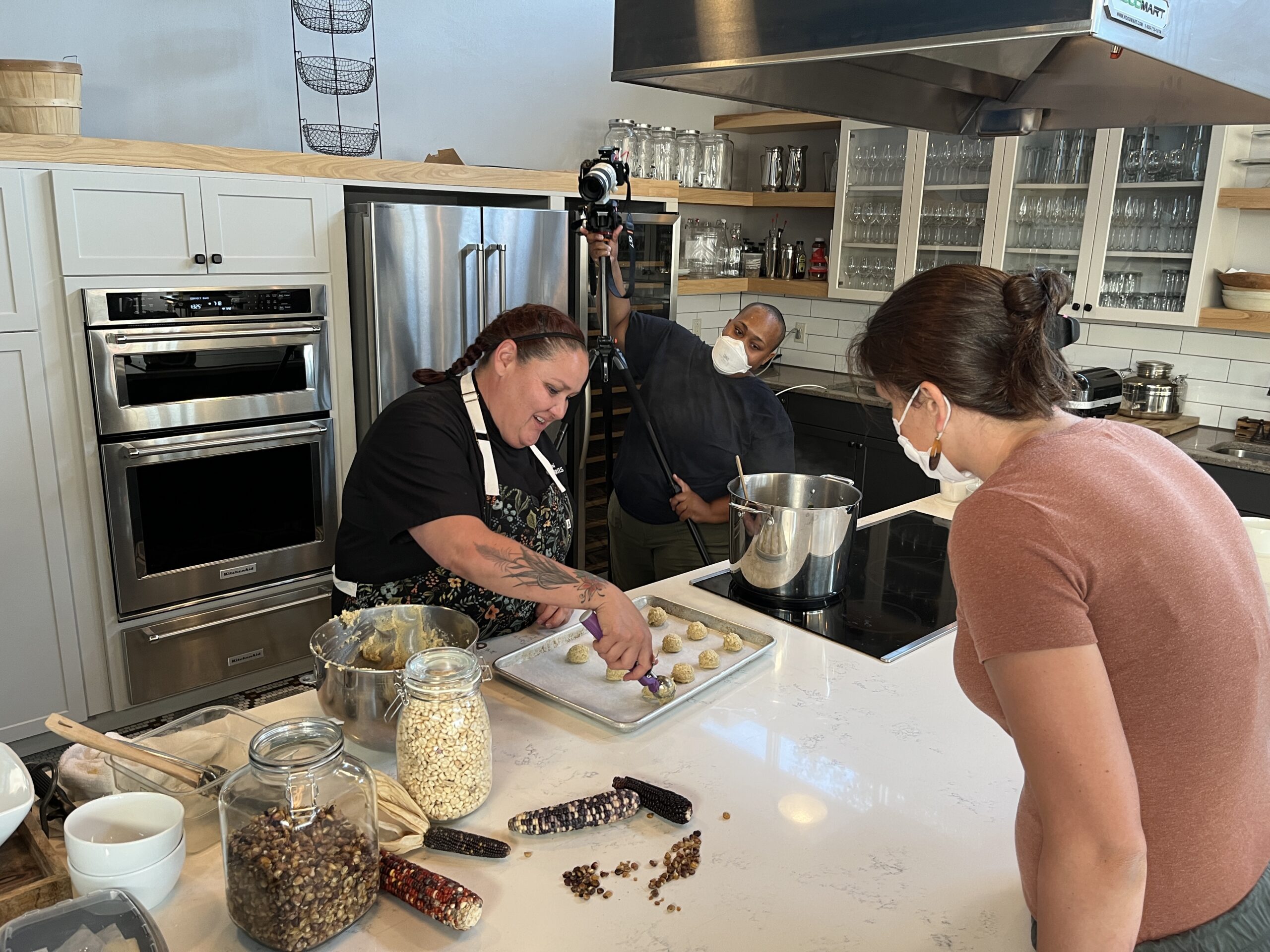 A partnership between Madison Metropolitan School District (MMSD) Food and Nutrition and REAP Food Group spent much of 2022 bringing local agriculture straight to classrooms thanks to a USDA Farm to School grant. The Harvest of the Month program includes Virtual Farm Tours and a series of video shorts featuring vegetables that students will find right on their lunch trays!
In Spring and Fall of 2022, REAP Food Group led virtual farm tours across southern and southwest Wisconsin with help from Shiftology Communications. K-5 classrooms across Madison public schools zoomed into the tours and asked farmers questions live, while REAP polled classrooms to find out how many varieties of apples or mushrooms students could name, or what they thought CSA stood for (= Community Supported Agriculture).
Meanwhile, REAP brought on independent video producer Bria Brown, based in Atlanta, GA, to produce engaging short films featuring peppers, greens, corn, and cucumbers. Together Brown, Farm to School Director Allison Pfaff Harris, and Communications Manager Samantha Kincaid visited several local growers and food makers over the summer of 2022 to collect stories and footage.
Over the lifetime of the grant, the team got to share the inspired voices of farmers who often spend their days deep in manual labor and managing teams both tiny and large.
[O]ne of my takeaways was that farmers are very forthcoming with their knowledge, and want a place to share what they do. These tours provided the opportunity for farmers to share their work and knowledge on a larger platform, without having to leave their farms," said Farm to School Director, Allison Pfaff Harris.
All tours and vegetable videos are available for public viewing at the Harvest of the Month page.
A Special Thank You to the farmers and chefs who contributed their time and passion to this grant:
Alex Booker, Badger Rock Urban Farm and Booker Botanicals
Armando Pérez, Pérez Produce
Bethanee Wright, Winterfell Acres
Elena Terry, Wild Bearies
Heidi and Julian Zepeda, Tortilleria Zepeda
John & Halee Wepking, Meadowlark Organics
Liz Griffith, Door Creek Orchard
Patty Grimmer and Ky Christenson, Wonka's Harvest
Sarah Leong, Squashington Farm
Tommy Stauffer, Vitruvian Farm
Yimmuaj Yang, Groundswell Conservancy
Yusuf Bin-Rella, Trade Roots Culinary Collective