Guest Article: Food Apartheid in Madison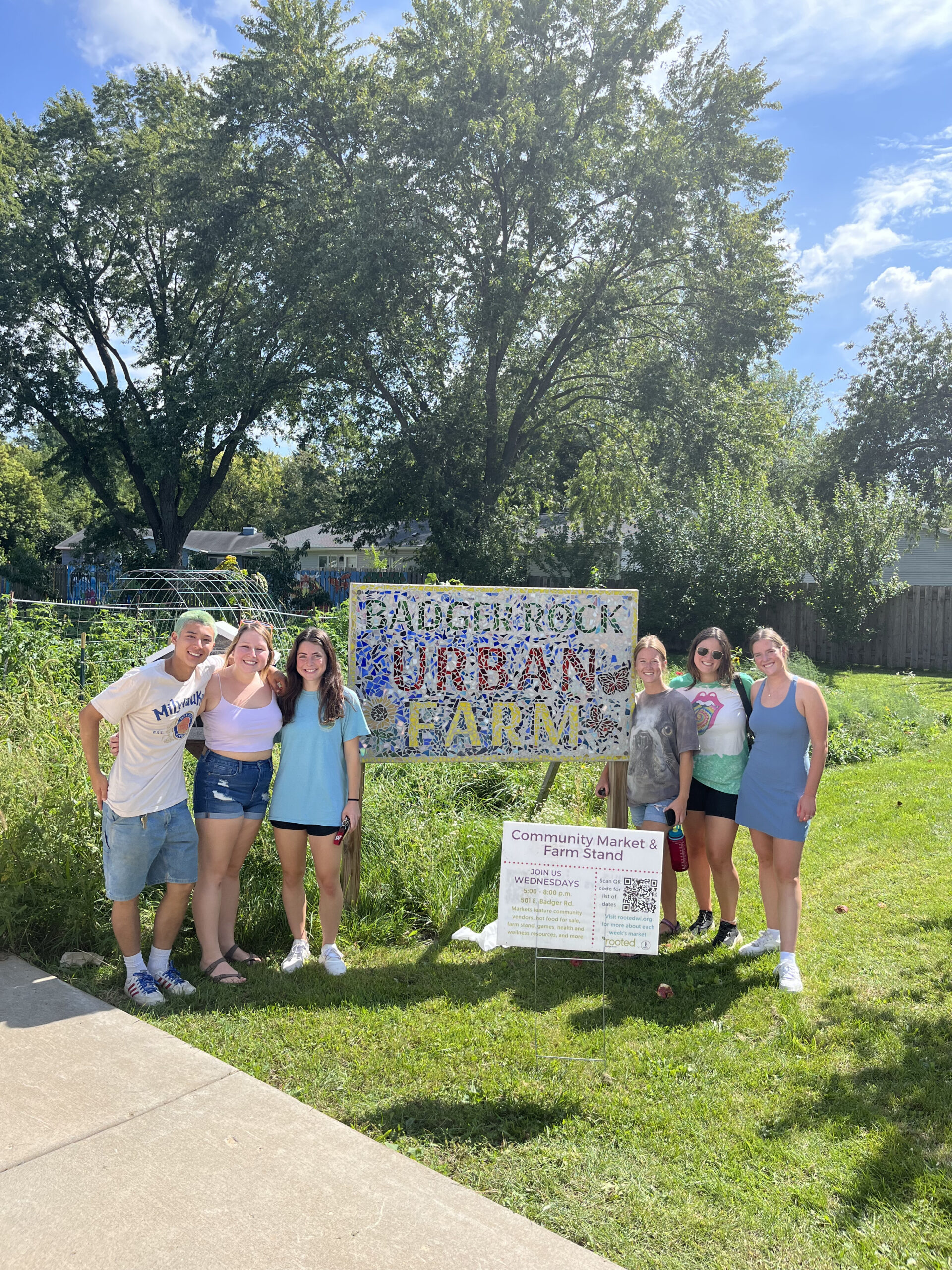 Noah Reinkober, a student in the UW Madison School of Human Ecology, joined us this fall as a Farm to School intern, supporting Director Allison Pfaff Harris and REAP's partnership with MMSD Food and Nutrition. The following article was researched and written by Noah.
Many people today are familiar with the concept of a "food desert," not just those in academia or the fields of sociology and human ecology. The term, which began being used in the 1990s, refers to a neighborhood, often in an urban environment, which has very little access to food. People living in a food desert may have restaurants in the area, but have to travel far to purchase foods at a grocery store, or they may simply be lacking in nearby food entirely. As the understanding of this issue has progressed over the last few decades, activists and researchers have proposed different labels for these areas. "Food swamp," a term which came into usage about a decade ago, refers to the same areas, but emphasizes the fact that these neighborhoods are often saturated with unhealthy foods, rather than lacking food entirely.
Both of these terms are misleading when it comes to the conversation about food access, however. Deserts and swamps, unpleasant as they're often perceived to be, are natural parts of the global environment with unique and thriving ecosystems. Neighborhoods which are deprived of healthy food options are not naturally occurring. To better describe this phenomena, Karen Washington, a Black farmer, activist, and organizer, came up with the term "food apartheid." Rather than labeling a lack of food access as a natural occurrence, Washington's term explicitly states the role that politics, economics, and histories of classism and racism play in the matter.
Food apartheid occurs when institutions fail to invest in communities which need the investment the most. Segregation, poor public transportation, redlining, high food prices, lack of access to growing land, and perceived lack of profitability for private businesses are just a few examples of things which inform food apartheid, all of them products of society, not nature. Karen Washington grew up in New York City, so that is the context from which she is working, but the systemic racism and classism which created food insecurity in NYC exists in Madison, WI too.
According to Nicholas Heckman, a Public Health Planner in Policy and Food Security in Madison, because of how new the concept is, food apartheid "hasn't yet been effectively measured at the local level." Rather, data around food access and food insecurity often comes from the state or county, and researchers must use "various proxy data points and population characteristics to draw conclusions." Though now dated, and lacking the context of COVID-19, Heckman's 2016 report, Hunger and Food Security in Wisconsin and Dane County, sheds some light on the disparities which exist on the state and county levels.
In 2016, it was reported that 12.4% of all people in Wisconsin, and 11.8% in Dane County, were considered food insecure.
According to the 2016 report, 12.4% of all people in Wisconsin, and 11.8% in Dane County, are considered food insecure. Though those rates are lower than the national percentage, the racial disparities are what set Wisconsin apart. In Wisconsin, 34.5% of Hispanic residents and 34.6% of Black residents face food insecurity, compared to the national rates of 23.8% and 25.5% respectively. For White residents, the numbers are significantly lower with 8.7% being food insecure at the state level and 10.9% at the national level. The stark contrast between racial groups when it comes to food insecurity could point to a continued system of apartheid, especially taking into consideration the historical and present institutional racism which has been found in American foreign and domestic policy.
For Madison in particular, the city's south side has historically been a site of concern as far as food access goes. Margaret Nellis, whose roots in South Madison go back at least 24 years, spoke on the matter of the Pick 'n Save in the area. The store, which sits at 1312 South Park St., has been in a state of turmoil for some time now. At numerous points in the past few years, the store has threatened to leave. Though Nellis states the area "has an embarrassment of riches when it comes to specialty stores, like Asian Midway, Yue-Wah Oriental Foods, and Mercado Marimar," Pick 'n Save's absence would have left the area without a major grocery retailer. Despite the lack of profitability in the area, community members like Nellis successfully put pressure on Kroger to have the store kept in place.
Though Pick 'n Save will now be leaving, it's being replaced by Maurer's Urban Market, which will serve as the chief grocery retailer for the area. It seems like a positive development, among others that Margaret Nellis notes. When she first started doing civic engagement work in South Madison through the UW, Robert Pierce, a local advocate for Black agriculture and the founder of the South Madison Farmers Market, expressed a need for food-based education for children in the area. To that end, Nellis helped develop programming through Slow Food UW which still exists to this day, with a focus on nutrition education, gardening, and healthy eating.
The South Side continues to see many positive developments. There are several community gardens, with a notable garden project at Badger Rock Middle School, Robert Pierce's South Madison Farmers Market, and several organizations which seek to provide fresh produce to the community like Centro Hispano and Urban Triage. The area has also seen an investment by the city, with the creation of the Black Business Hub and The Center for Black Excellence and Culture on the horizon. Despite the optimism stirred up by these developments, Margaret Nellis notes that there is still some cause for concern. Gentrification and ever-increasing housing prices have been subjects of concern for people living in the area, an area which has historically had large portions of Black, Latino, and Southeast Asian residents. Even if the food systems remain strong in the area, disrupting and scattering the current residents could still contribute to an overall system of food apartheid.
As for Nellis, she remains an advisor for Slow Food UW's South Madison program. Jenna Rethman, one of the current co-directors of the project, spoke about the organization's current efforts, alongside Angelina Mico and Gwen Kelley, the executive directors. The organization, whose mission is to provide good, clean, and fair food to the community, was founded in 2007 and hosts three primary projects. The Family Dinner Night and the Cafe are avenues for Slow Food interns to prepare food using fresh, local ingredients and serve it to the community at a sliding-scale price. According to Mico and Kelley, the sliding-scale model is a new implementation, and a successful one at that. Because payment is an optional donation, the food is more accessible to low income community members, and the organization has been able to partner with organizations like F.H. King who provides them with freshly grown produce. Mico describes the partnership as a "beautiful experience" which has given them access to many new ingredients, like the Jerusalem artichoke.
As for Slow Food's South Madison project, Rethman highlighted the three programs they're currently running. Interns currently teach kids how to cook and garden at Badger Rock Middle School, provide nutritious food and nutrition education to the Get Movin' fitness class hosted by the Wisconsin Alzheimer's Disease Research Center, and teach kids about food science at various community centers through their Snacks with Scientists program, which is supported by the Wisconsin Institute for Discovery. As a provider of locally sourced food and nutrition education, Slow Food UW currently serves as a link between the South Madison community and the UW Campus, and between other student organizations which are dedicated to fighting for food justice.
Like the city of Madison, information on food insecurity for UW Madison is hard to come by. A study from 2016, called Hunger on Campus, estimated that at least 20% of students at 4-year universities are considered food insecure, with the number tripling for students of color and first-generation students. A local study called Hiding Hunger, conducted by Lydia Zepeda, UW-Madison Professor of Consumer Science, does not offer exact numbers but highlights the shame students felt around their food insecurity, likely resulting in under-reporting. Though it's unclear what the numbers are when it comes to food insecurity on campus, and the disparities which may exist between various demographics, students are aware of the problem and are often the ones who are left to address it.
May Jagondzinski, speaking for UW Madison Food Recovery Network, another Slow Food UW partner, expressed some frustration at such a phenomenon. Her organization recently applied for a grant through the Associated Students of Madison which would have provided funds for paid positions, but they were denied. Given the fact that the organization is receiving little institutional support from the university, Jagondzinski and other outgoing seniors, who make up the majority of current board members, worry about the future of the organization. The lack of support is disappointing, given the importance of the group's work. The Food Recovery Network reclaims food from UW Madison's food halls that would otherwise go to waste, as well as leftovers from Slow Food's lunch and dinner service, and repurposes them into free meals which are served to the student community. Though May Jagondzinski was limited in her knowledge of food apartheid, her interest in supporting food justice on campus was clear. As she stated, "there are not a lot of affordable healthy foods on campus. Stores like Fresh and Target are nearby, but it can be difficult to do a full shop without a car, and it can be quite expensive. When the UW is doing little to address inequities in the food system, we're helping to fill in."
Another organization which fits into the puzzle of student organizations which seek to address food insecurity is F.H. King. While Slow Food and Food Recovery Network focus more on serving meals, F.H. King's main focus is on sustainable agriculture, which they engage in through their farm during the summer months, and through alternative methods, like foraging and composting, during the colder months. Despite the importance of working on the land, Rachel French, the Education Director, and Eren Wolf, the Urban Agriculture Director, emphasized the equal importance of getting food to the student community. In addition to weekly produce handouts outside the Student Activity Center after the harvest, the organization donates produce to Slow Food's Family Dinner Night project and hosts two biannual educational farm festivals which offer free food to attendants.
F.H. King's sustainable practices include the use of cover crops, perennials, crop rotation, and compost rather than fertilizer. Wolf and French indicated their organization's desire to grow foods which are relevant to a wide range of cultures, which is why they grow foods which may not be as common in the typical midwestern household, such as leeks and Jerusalem artichokes. In order to promote their vision of food justice outside of the farm, the organization, like Slow Food, also engages in educational programming for people across a variety of age groups, including children. Their workshops cover a wide range of topics like pickling, working with edible flowers, and using natural dyes.
Though F.H. King, Slow Food UW, and the Food Recovery Network are only a few pieces in the puzzle of organizations supporting food access on campus, the importance of the work they do is undeniable. Though the concept of food apartheid is still largely unknown to many, the drive to fight for justice in the food system is obvious from the efforts of students and community members in Madison. Though the prospect of repairing a broken food system seems daunting, students remain focused on the futures of their organizations. The directors of Slow Food would like to see their educational programming expanded to other schools in the Madison school district, and would like to promote more events and opportunities for students on campus by partnering with organizations like WUD Cuisine and the Greenhouse Learning Community. F.H. King will also be partnering with Slow Food in the near future to host an aphrodisiac workshop alongside Sex out Loud. For her part, May Jagondzinski would like to see the Food Recovery Network expand the scope of their operations, serving meals out in Eagle Heights and increasing the number of free meals they serve each week.
The subject of food apartheid in Madison requires much more research. Despite the fact that people recognize a problem exists, the existing numbers are outdated and may not accurately reflect the realities of people struggling with food in a world shaped by COVID-19. Though it must be recognized that students and community members are engaging in important work when it comes to fighting against food apartheid, the city and greater institutions of power need to be doing more to address the issue through investments and public policies which empower people to have control over the food that they eat. Though people may feel intimidated by the task ahead, food apartheid is still not widely known to the broader public, so the best thing to do for now may be to reach out to friends and neighbors and explain what food apartheid is, why it's important, who's fighting against it, and how to get involved.